Thanks to advancements in HTML5 catalog maker technology, digital flipbooks have the huge potential to replace the print catalogs with the added music, video and customized design. HTML5 catalog maker provides a convenience way for customers to access your products or services online when they need. 1stFlip Flipbook Creator, a professional HTML5 catalog maker, is really easy to use. You only need to import your PDF catalog to 1stFlip Flipbook Creator, and the 1sttFlip Flipbook Creator will help you to finish the rest operation.
1stFlip Flip Book Creator is a perfect HTML5 catalog maker to convert PDF catalog to HTML5 catalog, and it allows customers to view your HTML5 catalogs on Mac, PC and all mobile devices. With the help of the great HTML5 catalog maker - 1stFlip Flipbook Creator, your online flipbooks will be more attractive. This amazing HTML5 Catalog maker will help online business and enrich online reading.
Why we said 1stFlip Flipbook Creator is an amazing HTML5 Catalog maker? It is better than other HTML5 catalog makers because it has so many specific features. It supports responsive design, and it means that you can preview how your flipbook looks on different mobile devices with the software. HTML5 in responsive design will give a better reading experience for your readers. It will adapt to any mobile devices. You can customize flipbook templates and background. It allows you to choose different templates, scenes and dynamic background to make animated HTML5 catalogs. You can also add, delete flipbook pages or adjust page order as you like. Insert video and music to your HTML5 catalog, and it will bring your catalog to life. There are so many amazing features of this HTML5 Catalog maker, and you can experience these features with a free trial version.
How to create HTML5 catalogs with this great HTML5 catalog maker? It is easy to learn from the following steps.
Download, install and run 1stFlip Flipbook Creator on your Mac or Windows. Here we will take Mac version as example.
First, import your PDF catalog. Click Mobile button to enter responsive design mode. Customize the HTML5 catalog as you like.
Click Edit Pages button if you want to enrich catalog content with video, music, images, GIF, button, hyperlinks, etc. Add whatever you want.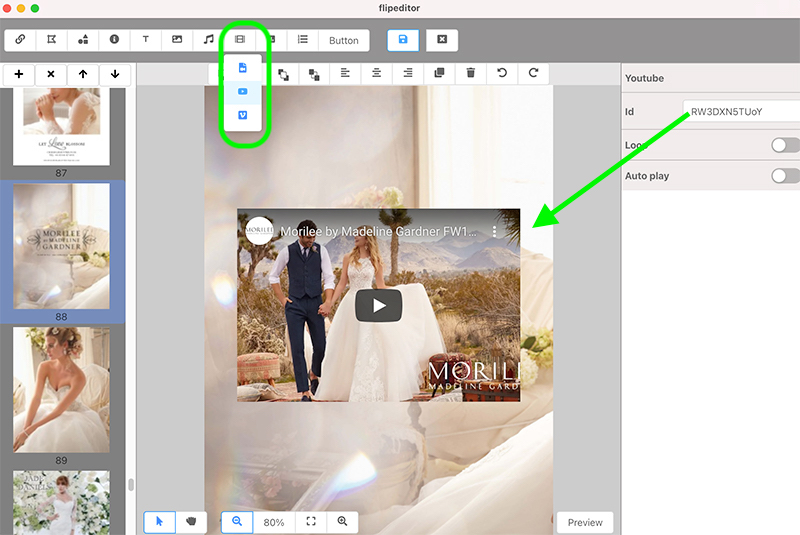 If you select to upload to 1stFlip sever, finish customized design and then click the Upload Online button. The Upload Settings window will pop up. Click Expand and select HTML5 only as the output format.
If you want to upload flipbook to own website, click Publish button, choose .html and select HTML5 only as output format. After these steps, click Publish.