A school yearbook is a publication that captures the people and events of their school lives during a particular year. It can also serve as a public relations tool for the school that publishes it. Since the advent of desktop publishing, yearbooks have taken giant leaps forward in quality and content. Some schools are publishing yearbooks online instead of printing them. Modern smartphones and tablets makes it easier to view digital yearbooks anywhere and anytime.
Today's school yearbooks document school life in a more dynamic and vivid way. For example, instead of traditional posed photos, digital yearbook publishing software allows you to bring the vibrancy of video to your school yearbook.
Below is how to get started.
Step 1 Download, install and run 1stFlip Flipbook Creator on your Mac or Windows. Click Import button to import your PDF yearbook and then click the Edit Pages button. If you don't have a PDF yearbook, just upload a blank PDF, click Edit Pages and design your yearbook.
Step 2 Find videos you want to feature in your yearbook. It can be local video, YouTube video or Vimeo video. Click the video icon to add local video, YouTube video or Vimeo video. Set the video to auto play or play in loop on the right side.
How to add Youtube video: Open the YouTube video in browser and copy the code after "v=" in the URL to the Id area on the right side. For example, the YouTube video URL I choose is http://www.youtube.com/watch?v=kYaMHMoGStY, then the Video ID is: kYaMHMoGStY.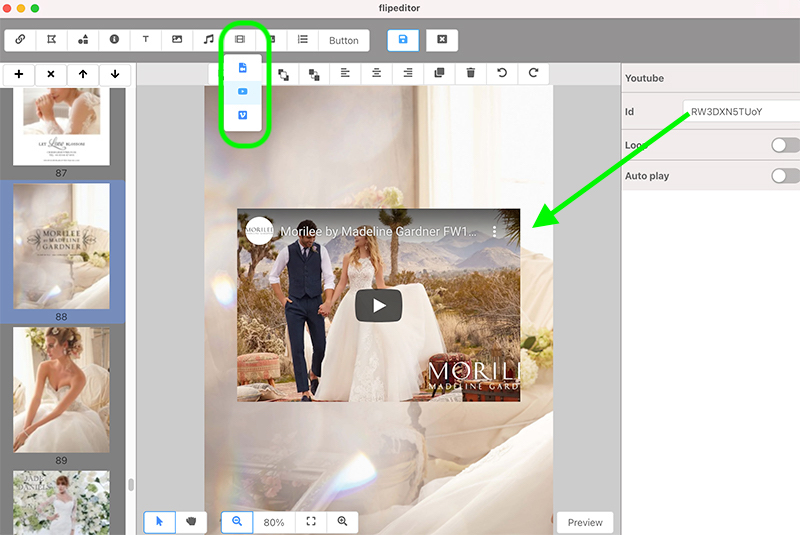 At last, click click
to save the flipbook and exit. After publishing, readers can enjoy the embedded YouTube video directly while viewing your flipbook.