Online flipbook is a new digital document format. It combines the benefits of digital and print publications, allowing them to be viewed on a variety of electronic devices while retaining the page turn effect of a printed document. It is a great way to share your digital documents while enhancing them with multimedia, branding, design and content protection.
So how to create a flipbook online? In this article we will provide you with the easiest guide on how to make an online flipbook with 1stFlip Flipbook Creator and all the tips on how to get access to this powerful and very user-friendly online flipbook tool.
How to create a flipbook from PDF
Prepare your document in PDF format.
1stFlip Flipbook Creator is the easiest way to make online flipbooks from PDF files and one-click to upload and share flipbooks via social networks or websites. It is very easy to convert PDF files to digital flipbooks on Mac and Windows.
Follow below steps and learn how to create an online flipbook with 1stFlip Flipbook Creator.
Step 1 Upload your PDF to 1stFlip Flipbook Creator
Download, install and run 1stFlip Flipbook Creator on your Mac or Windows.
1stFlip Flipbook Creator works on Mac OS X 10.6.0 or later and Windows XP and later. The interface is like below: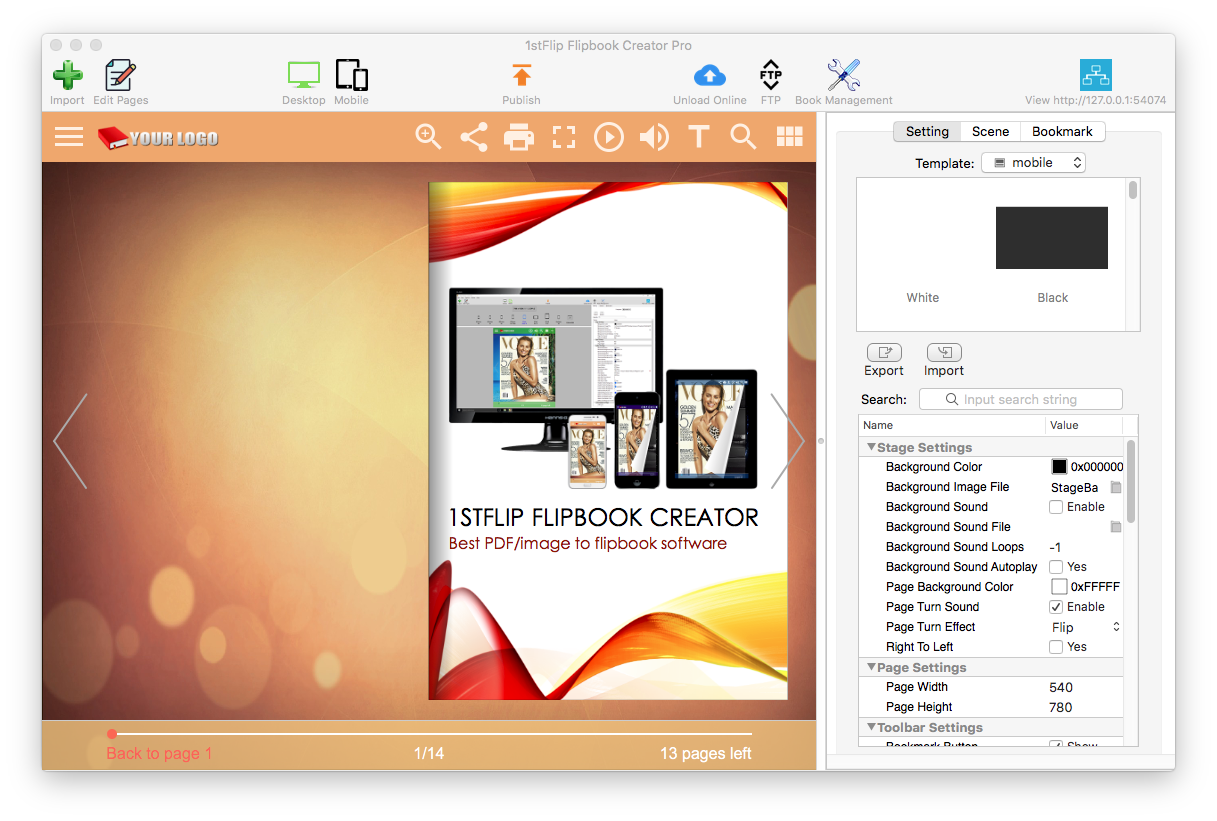 Click the import button to import PDF files. As you can see from the below screenshot, there are multiple import options:
Page range: Import all pages or select certain pages to import. The Preview window on the right side allows you to preview any page conveniently.
Page quality: Higher, high, medium, low, lower.
Page format: Vector or Raster
Import bookmarks, links, support searching.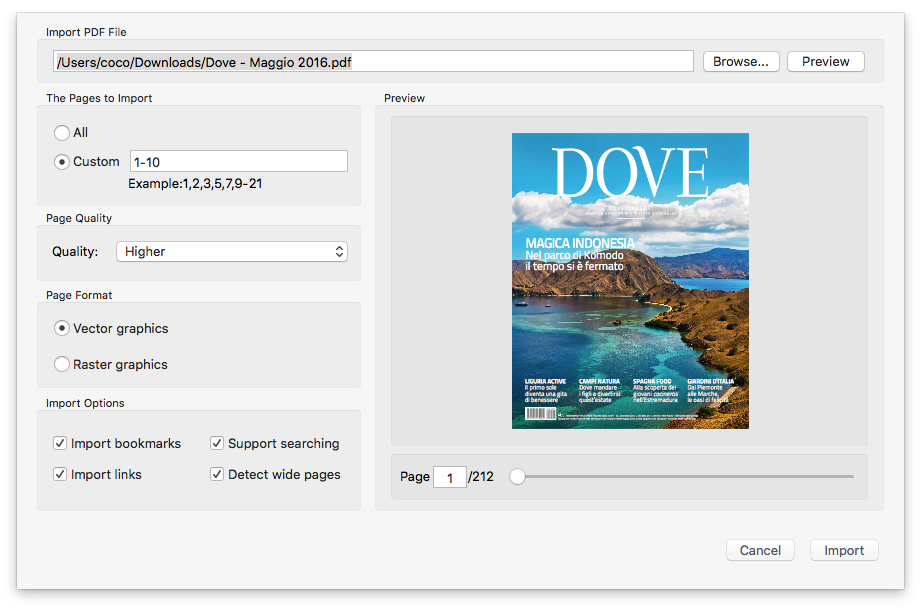 Step 2 Customize your flipbook
The part within the red rectangle is how your flipbook looks like after converted, you may want to make some changes.
Design
All templates are changeable. The lower right corner of the interface allows you to customize detailed settings, such as buttons, toolbars, icons, text, languages, background sounds, etc.
1stFlip Flipbook Creator provides multiple pre-designed scenes to make your flipbooks more vivid.
If you are not satisfied with these scenes, go back to Setting tab, find Background Image File option, click the folder icon to choose your picture as scenes. You can also insert background music to your flipbook.
Interactivity
Make your flipbook more interactive with engaging videos, audios. Add links and buttons.
Privacy
Make your flipbook public to search engines or add password to protect privacy. Enable or disable sharing, downloading, and printing of your flipbook. 
Step 3 Publish your flipbook
Convert to local flipbook:
After converting, you will get the following:
Open Whisky.html to view the flipbook locally or upload the whole folder to your website or send by email. How to view flipbooks on mobile devices?
Upload to Online Library:
Add title and desctiption to improve search engine ranking.
Step 4 Share your flipbook
Share the flipbook url directly or embed flipbook to your webpage/blog. Share your flipbook on social media such as Facebook, Twitter, etc. It will display a neat preview of your flipbook, prompting people to click it.