Below is an example of how your page flip digital newspaper looks like if embedded on your website.
---
How to make a digital newspaper with page flip effect
1stFlip online newspaper software adds realistic page flipping effect to your digital newspaper.
1. Upload PDF
Download, install and run 1stFlip online newspaper maker on your Mac or Windows. Start by uploading your PDF newspaper or create one from scratch.
2. Customize newspaper
Select any newspaper template or scene. All templates can be customized. Add, change or remove text, change backgrounds and more for custom designs.
3. Publish and Share
Online or offline newspapers, you choose. 1stFlip online newspaper maker offers multiple publishing options: upload to 1stflip server, your website, or publish offline newspaper as html, zip, app and exe. You can also publish newspaper as WordPress plugin, Joomla module or Drupal module.
---
Digital newspaper with page flipping effect
Add video, music to make your newspaper more vivid and attractive.
1stFlip newspaper Maker offers many settings and options to customize your digital newspaper. Add background music, change background image, change page turn effect, etc.
Integrate with Google Analytics to get a full view of your newspapers' performance.
Publish the digital newspaper online to your website or 1stFlip cloud. Save a project and you can edit it whenever you want.
---
Newspaper with multimedia
The eNewspaper app provides an exact replica of daily print newspaper that lets you flip through the pages, read the stories, play the puzzles, and see all the photos. However, it make your new more vivid with video. 1stFlip allows you to enrich your newspaper content with video news, audio news, etc.
---
Publish and share your newspaper
Upload your newspaper to 1stFlip server or your website and get the unique url.
Share the url and your readers can view the digital newspaper in a flip-view format on any device via browser.
Embed your digital newspaper on a website, share through social media, or send direct links to people. Pages are flipped through, just like a printed newspaper.
Publish offline newspaper as html, zip, app or exe.
Create newspaper as WordPress plugin, Joomla module or Drupal module and use them on your website.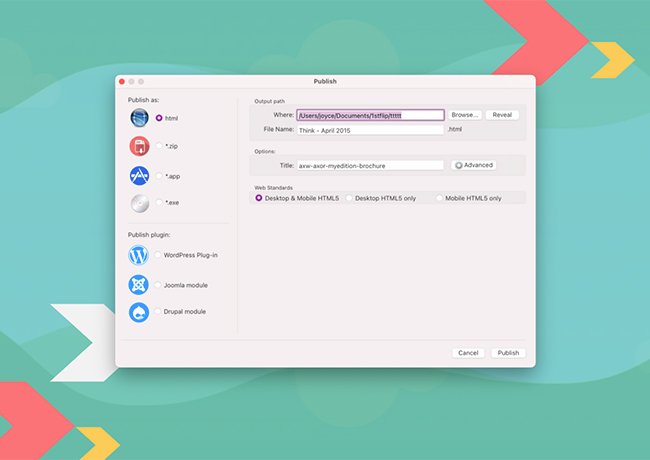 ---
Digital newspaper Maker features
Search
Allows customers to search the newspaper and quickly find what whey want to order.
Brand logo
Include your company logo in the online newspaper to market your business.
Mobile friendly
Your online newspaper displays perfectly on any desktop, laptop, tablet and phone. Browser friendly.
Page turn effect
Simulate printed newspaper with page turn animations.
Embed on Your Website
Allow you to embed newspaper in a website that you own or manage.
Sharing
Share your digital newspaper url on social media or via email.
Media-rich
Transform your PDF into a media-rich digital newspaper with video, audio, button, etc.
Download/Print
Readers can download or print a PDF directly from any eNewspaper.
Create your interactive newspaper Now
Download 1stFlip online newspaper generator - Start making professional looking newspapers right away! Create professional Business newspaper, Financial newspaper, school newspaper, etc., digital and printable