Facebook allows user to attach and upload PDF files to business pages and groups, not including your personal profile page. However, you still have 3 ways to share the content of PDF files with your friends.
Convert single page PDF to image.
Upload PDF to file sharing sites and share the url on Facebook
Convert PDF to online flipbook
For PDFs like single-page posters or forms, convert them to images and post them on Facebook. You can convert PDFs to images for free using the Preciew app for Mac or the PDF to JPG app for Windows. The easiest way is to open the PDF and take a screenshot. This works best for PDFs that are only a single page, but if you need to convert a multipage PDF, you should turn each page into its own separate image.
For more complex PDF files, such as multi-page documents or interactive forms, store them on file sharing sites like Dropbox or Microsoft OneDrive. Get the link and post it on your Facebook page.
However, PDF documents are plain and outdated. How to make yout document more attractive? Here we will show you how to convert plain PDF to online flipbook with realistic page flipping effect.
How to convert PDF to online flipbook
Converting PDF to onlien interactive flipbook is very simple with 1stFlip Flipbook Creator. It also allows you to add interactive elements such as video, music, link, etc. to your PDF. Follow below steps to convert your PDF to online flipbook.
Step 1 Import PDF
Download, install and run 1stFlip Flipbook Creator on your Mac or Windows. Here we will take Mac version as example.
Import your PDF and 1stFlip Flipbook Creator converts it to flipbook immediately. You can customize your flipbook with templates, theme, logo, backgroud music, etc. Add Google analytics ID or password.
Step 2 Customize your flipbook
Open Page Editor to add music, local video, YouTube video, Vimeo video, etc. to your flipbook.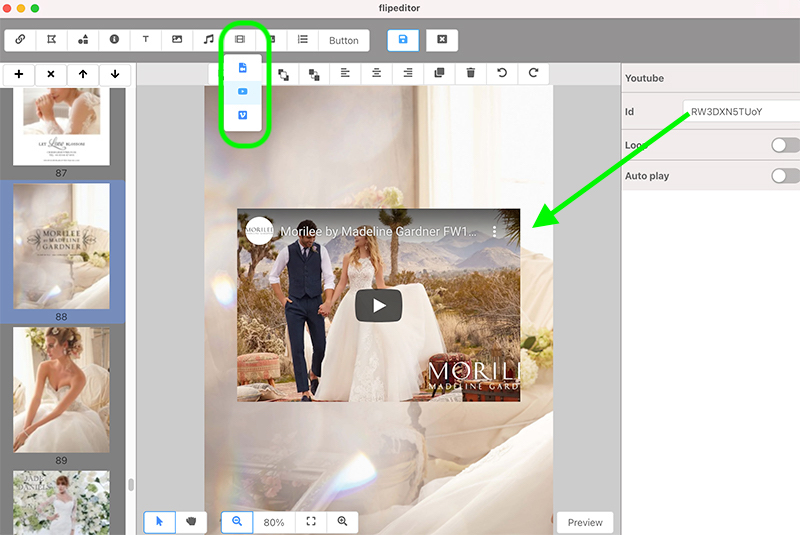 Step 3 Upload your flipbook
Click the Upload Online button to upload your flipbook to 1stFlip server.
If you want to upload flipbook to your own website, click FTP. Or click Publish button, save flipbook offline and then upload with your own FTP tool.
How to post PDF on Facebook
Now your flipbook is ready to share. After uploading flipbook to 1stFlip server, the below window will pop up. Click below Share to Facebook to post the PDF on your Facebook.