Your PDF magazines can be presented more interactive. Convert any PDF Magazines to online magazines with realistic page turning effect. Here we will show you 2 online magazine makers for you to choose.
1. Issuhub
Issuhub is a free online magazine maker that allows you to create magazine with realistic page flipping effect. It has both web version and desktop app, available on Mac and Windows. Issuhub Pro costs $15 per month. The web version requires you have prepared your magazine in PDF format. With desktop version, you can start from scratch. It allows you to create your own catalogs, magazines, brochures, flyers, reports, and lookbooks using the very inclusive editor tool, or upload your own PDF file using the PDF converter. It publishes your digital magazine as HTML5 flipbooks.
Issuhub is also a magazine sharing platform. You can view numerous magazine published by our users. Download or print your favorite magazine if the owner allows. Of course, your magazines are public to all visitors, unless you make them private.
2. Canva
Canva is a graphic design platform for you to design magazine, presentations, social media graphics, and more with thousands of beautiful layouts. It offers thousands of free, professionally designed and customizble templates. If you want to create a magazine from scratch, open Canva, select a magazine template(some are free, some are not), add photos or upload your own. Replace the existing text or add your own message. You can save your magazine as PNG, JPG, PDF, SVG(require pro account), MP4 video and GIF. Or click share and get a link. You can also embed the digital magazine to your website/blog. To upload your own logo, you need to upgrade to Pro or Enterprise. Canva Pro is $119.99 when paid annually or $12.99 paid monthly.
3. Flipsnack
Similar to Issuhub, Flipsnack also allow you to convert PDF to page flip magazine. FlipSnack is an online publishing platform for uploading predesigned content to make a "flippable" virtual book. Upload your PDF magazine or create from scratch.
Flipsnack Starter plan costs $32/month or $168/year.
4. Lucidpress
Lucidpress is also an online magazine maker with pre-designed templates.
It allows you to download and save your magazine as PDF, PNG, or JPG. Premium features such as publish on the web, embed in an email/website requires at least a Pro account, which costs $10.00 / user / month Change plan.
5. 1stFlip Flipbook Creator
All the above 4 options are subscription-based magazine creation services, so if you make magazines frequently or prefer desktop tools, maybe a one-time paid tool is more suitable. 1stFlip Flipbook Creator is also a professional magazine creation tool. Unlike the above subscription services, it does not have a web version, you need to download and install it on Mac or Windows.
Step 1 Import PDF Magazine
Download, install and run 1stFlip Flipbook Creator on your Mac or Windows. Here we will take Mac version as example.
Download Mac version Download PC version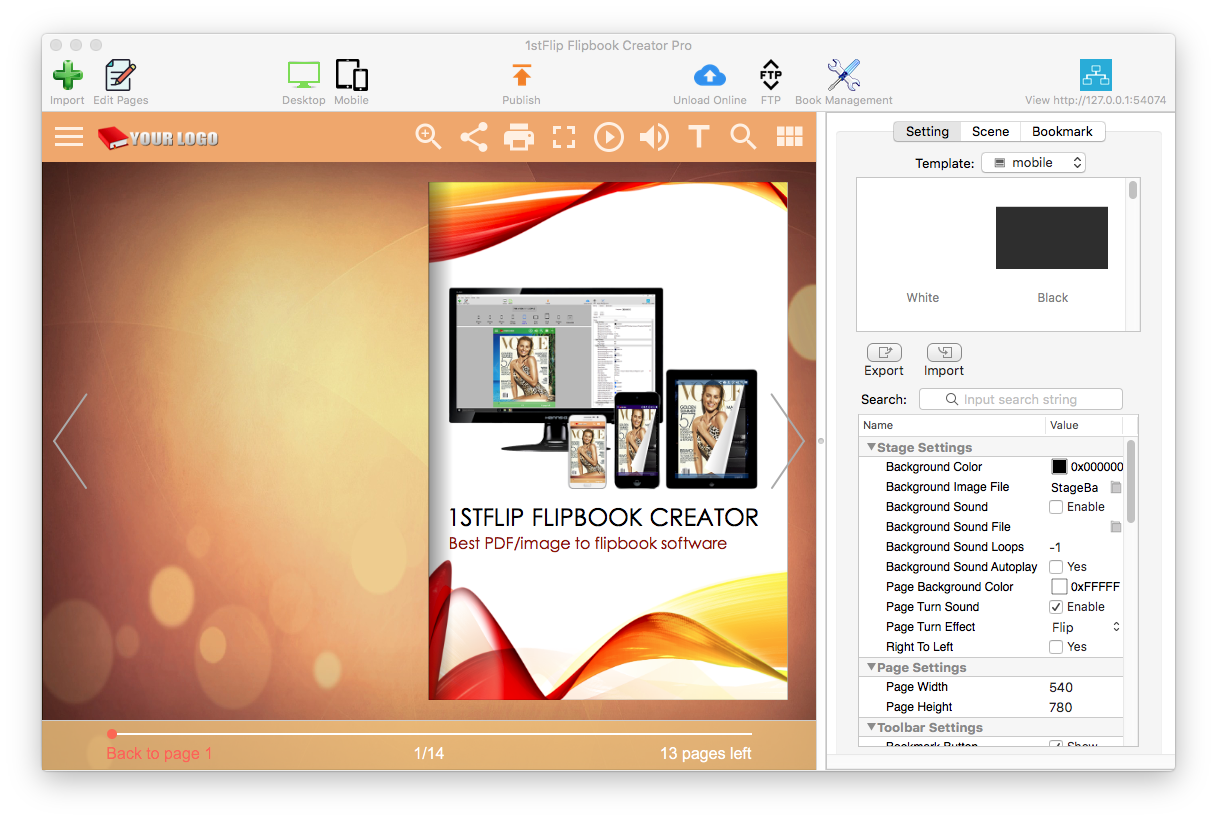 The four buttons on the top shows you how easy it is to make digital magazines: Import PDF files; convert to local digital magazine, or upload online to share with readers; manage all uploaded digital magazines in the Online Library.
Click Import button, choose PDF file and set page number, quality, and format. Check "Import bookmarks", "Import links" if there are and you want to preserve them. Then click Import.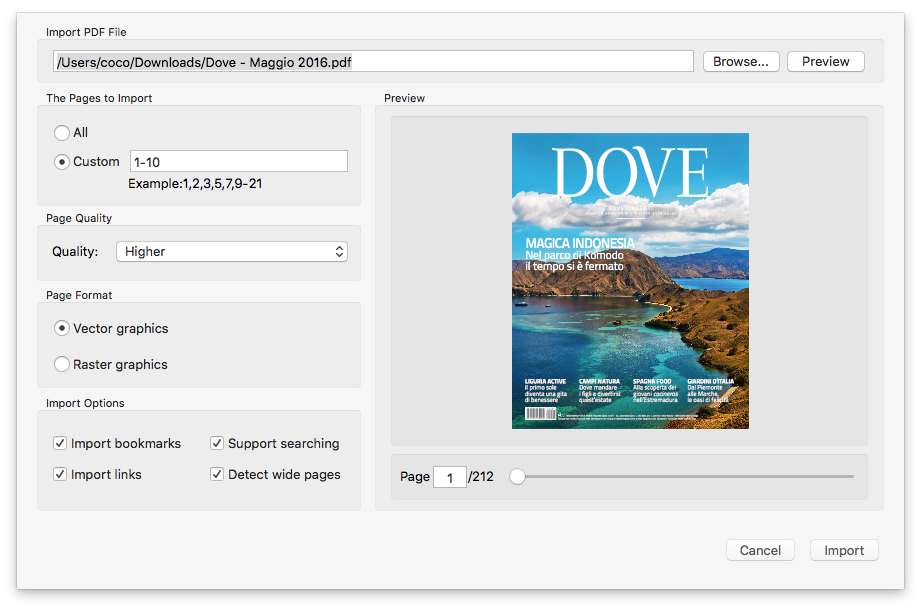 Step 2 Customize HTML5 Magazine
Now you can see the static PDF magazine has turned into a HTML5 magazine with page-flipping effects. What is shown in the preview window is what your digital magazine looks like after published.
In the right part of the interface, you can choose templates, scenes and add bookmarks for your digital flipbook.
1stFlip Flash Magazine Maker now provides two categories of templates:Geometry and Texture, each contains 5 samples.
Each template contains detailed settings for you to customize the appearance of your digital magazines, such as: logo, background music, languages, icon and texts on the toolbar.
Then select a dynamic background from the pre-designed scenes or add bookmarks for your digital magazines. If you have better background files, go back to template settings, find Background File option and import yours.
Step 3 Publish magazine online
Click Upload Online to publish your magazine online. The online magazine will be uploaded to 1stFlip cloud-based server. You get the exclusive URL of the online magazine and can share via social networks or embed the magazine to your website pages.